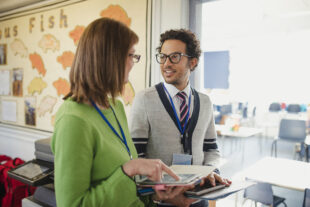 Today, we published the statistics about our initial teacher education (ITE) inspections. This included the outcomes for FE and skills teacher training. You can view the statistics, and those from previous years, here.
We have carried out 14 inspections of FE and skills ITE programmes in the current ITE inspection cycle which began in September 2020. Some provision is of high quality. However, almost two thirds of FE and skills ITE providers we inspected in this cycle have received an overall judgement of requires improvement or inadequate.
It would be wrong to draw conclusions about the whole of the FE and skills ITE sector from this small sample of inspections. However, we found common weaknesses in leadership and curriculum design.
Some providers continue to promote outdated approaches to teaching which are no-longer considered effective practice. We also found that in some providers, leaders lacked oversight of the mentoring arrangements. This leads to too much variety in the quality and consistency of mentoring received by trainees.
Of particular concern are a small number of providers promoting and delivering FE and skills ITE programmes for trainees who want to be school teachers and who do not have relevant qualifications. FE and skills ITE can prepare someone to teach a technical or vocational subject in a secondary school, particularly in KS4 and 5. However, such a programme is not an alternative to the recognised routes into school teaching as they do not cover the initial teacher training (ITT) Core Content Framework. They also do not provide the breadth of experience needed to support successful entry into the schools profession. The focus of FE and skills ITE is to prepare teachers to work in the FE and skills sector, not primary or secondary schools.
Our inspections did identify some providers who are delivering high quality FE and skills ITE. We found well sequenced curricula that prepared trainees well to teach in the FE and skills sector.  We also saw high-quality support from tutors that helped trainees to reflect on and improve their teaching practice.
The new ITE inspection framework rightly raised our expectations of all teacher training programmes. It increased our focus on the quality of education and training provided to trainees. It is disappointing that some established FE and skills ITE providers have chosen to stop delivering FE and skills ITE rather than make necessary improvements.
As we inspect more providers, we will continue to track trends in FE and skills ITE outcomes.
Keeping in touch
If you want to receive our teacher development newsletter, please email us at ITE@ofsted.gov.uk and we will add your contact details to our mailing list.