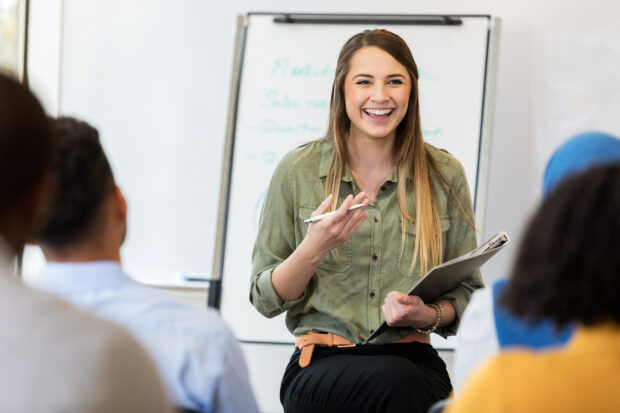 Helen Matthews, our Senior Her Majesty's Inspector (HMI) for Teacher Development, clarifies how and when Ofsted will inspect further education and skills (FES) teacher training programmes through the initial teacher education (ITE) framework.
As part of our ITE inspection framework, we inspect a range of publicly funded FES teacher training programmes that are delivered by providers such as universities, colleges, independent learning providers and local authorities.
Our ITE inspection handbook includes a section outlining the qualifications and routes into teaching that fall within the scope of ITE inspections. However, we've received queries from some FES providers about the circumstances in which they would be in line for an ITE inspection. We wanted to provide further clarity for these providers, so that they know if, and when, they are likely to receive an ITE inspection.
Inspecting FES teacher training programmes
In the current ITE inspection cycle (ending in July 2024), we will be inspecting providers of FES ITE that deliver the following programmes, and that are already 'known' to Ofsted:
postgraduate certificate in education
professional graduate certificate in education
level 5 certificate in education
diploma in education and training (DET)
level 5 learning and skills teacher apprenticeship
By 'known' to Ofsted, we mean providers that we are already in contact with about their ITE delivery. In other words, 'known' providers will have received a partnership information return from us requesting information specifically about the ITE provision that they deliver.
If a provider has not received a request from us for information about its ITE provision, then it is very unlikely to be inspected before July 2024, even if it provides the qualifications and routes into teaching outlined in our handbook.
We are now preparing for the next cycle of ITE inspections, which begins in September 2024. As part of this planning, we anticipate that the Department for Education will commission Ofsted to carry out a small number of inspections of providers that are not currently 'known' to us, but that are delivering the DET. We will engage with these providers as this work progresses over the next 2 years.
Once the full extent of the next ITE inspection cycle is agreed, we will begin to request annual partnership information returns from all providers that fall within the scope of our inspections.
Keeping in touch
If you have any specific queries in relation to FES ITE inspections, please email us at ITE@ofsted.gov.uk. Please also email us if you want to receive regular updates about teacher development and we will add your contact details to our mailing list. We will be providing regular updates about the inspection of FES-phase ITE provision as we move towards the next inspection cycle.