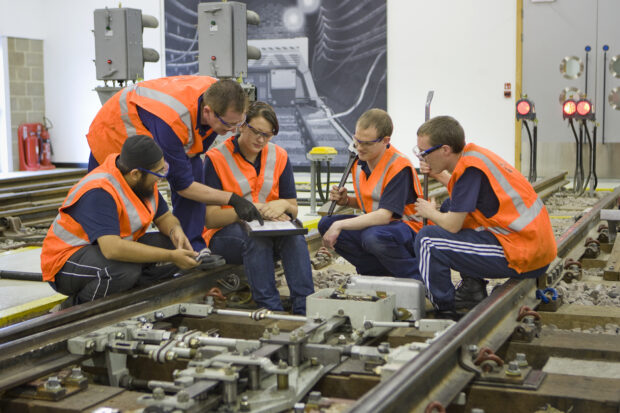 Paul Joyce, our Deputy Director for Further Education and Skills, discusses the challenges facing the apprenticeships sector.
As we're in National Apprenticeship Week, I want to celebrate the huge efforts that apprentices, providers and businesses have gone to during the pandemic. There is no escaping that, for many in the sector, COVID-19 (coronavirus) has made delivering education and training challenging.
We know from our visits in the autumn term that during the pandemic, many apprentices were furloughed, while others have been made redundant or had their off-the-job learning suspended. We also know that some sectors have been hit harder than others. Leisure, engineering and manufacturing apprentices have had a particularly tough year. We also know that learners with additional needs have faced extra challenges when accessing their apprenticeships. We cannot shy away from the fact that this is a difficult time for everyone involved.
Benefits of apprenticeships
Despite these challenging circumstances, we must not lose sight of how important apprenticeships are in building skills and developing knowledge. This applies not just to the apprentices themselves, but also to businesses and the wider economy, especially as we recover from the financial damage of the pandemic.
Taking on apprentices is an opportunity for business owners to future-proof their workforces and invest in enthusiastic talent. For would-be apprentices, embarking on this path can be a huge career boost, opening up new opportunities in a range of industries. There are some sectors where the demand for talented employees outstrips supply. An apprenticeship is an ideal opportunity to fill these vacancies. It's essential we look at the future needs of British industry and think about how young people considering apprenticeships can be helped into viable careers in growth industries.
Given the importance of apprenticeships, it is encouraging to note that we are seeing a gradual recovery in the sector. Understandably, we are seeing fewer apprenticeships starting this year compared with last. However, data from the Department for Education shows that this shortfall lessened between August and October 2020 compared with the previous quarter.
There is still a long way to go. But it is reassuring to see that the figures are moving in the right direction. As the vaccination roll-out continues and restrictions ease, I am hopeful that more people will apply for apprenticeships and take a meaningful step in their career development.
Next steps
In our most recent Annual Report, we set out our findings on apprenticeships. One area of concern for us was that apprenticeship providers focused too much on merely providing qualifications. They did not focus enough on providing apprentices with the skills and knowledge required for their next career steps. It is vital that apprentices gain skills that meet the needs of their community and local economy.
Many of the new apprenticeship providers that struggled to make reasonable progress had not sufficiently co-developed their curriculum with employers. I am, therefore, optimistic about the government's 'Skills for jobs' white paper. This aims to increase employers' involvement in curriculum development. Stronger relationships between providers and employers have the potential to transform careers, realise untapped talent, and make sure we have a workforce fit for the future.
In September, the government announced that Ofsted would assume responsibility for inspecting apprenticeships at all levels, including levels 6 and 7, which are often offered at universities. This responsibility will help us build consistency in standards and quality assessment. This is important to make sure that young people have access to the best quality learning and training to bolster their careers.
So, in this week of apprenticeships, it is right that we celebrate the tenacity and effort of businesses, providers and apprentices. It is clear that apprenticeships will have a significant part to play in rebuilding the economy in the wake of the pandemic.